How much return can I expect from the stock market? What is long-term in the stock market? What is the risk associated with the stock market? Regular readers may be aware that I have discussed these questions with returns and risk spreads from time to time. In my most comprehensive analysis, Sensex return charts for the last 35 years along with the return distributions are presented. These provide a visual representation of stock market risk.
Usually, the no of data points considered to plot the stock market risk-reward spectrum is only a handful. See this earlier study for example: What Return Can I Expect From Equity Over the Long term? Part 1
Using the rolling returns calculator, we can look at 1,2,3,4,.5, …. 30,31,32,33,34,35 year Sensex returns on rolling basis. From 8,649 one-year data points to 739 35-year data points. An overall total of 1.58 lakh data points.
Before we begin some important considerations
If you are a mutual fund sales guys do not waste your time reading this post. No one will buy equity mutual funds if you tell them about risks. The problem is that investors and many advisors simply assume "systematic" buying is all that is necessary to get "good returns"
Our markets are quite young and we were a developing country (less so now). This means that the long-term past performance will always be rosy. Please be cautious about extrapolating it into the future.
Our long-term market returns are heavily influenced by the Harshad Mehta scam – a proper bubble, not just a bull run. You can the tool in this post to understand its impact:  Understanding the Nature of Stock Market Returns.
The returns before FII investing began are of a different nature. Today all economies are heavily inter-linked.
Our fixed income in the past was truly fixed. Only recently it has become market linked. This will have an impact on equity too from now on. The penetration of corporate bonds was weak in the past.
Over-confidence is a common investor trait.  Expect no more than 10-12% returns from equity and that too over 10 years and that too with risk management.
Do not believe what product sellers will tell you. A Mutual Fund SIP is Hope, Not a Strategy!
Understand the difference between probability and possibility. You should be worried about the possibility of losing money and not the probability of losing money. You should be worried about the possibility of poor returns and not about the probability of poor returns whether it is long-term or short-term.
Wait for the results for a well-developed country with a longer market history before assuming that "equity will work over the long-term" – will consider S &P 500 rolling returns next week. You can check out an earlier study here: Will long-term equity investing always be successful?
 Some people make a song and dance about Indian equity never giving  -ve returns over 15 years. Well, when you collect 5171 15-year data points and notice that 250 of those are single-digit returns, it pulls you down to Earth. What is that, only 250  you say? Please go back to point 4 again, please.
RISK DOES NOT DECREASE OVER THE LONG TERM!! That is the central message of this post/
I am not against equity investing. This is only a caution to invest with the expectation of risk and not with the expectation of returns.
Do not believe the nonsense about compounding in equity occurs over the long-term. There is no compounding in equity (or gold, or Bitcoin or a debt mutual fund)
Returns from any market linked product depend on two things: (1) the period over which you stayed invested (SIP or lump sum does not matter) and (2) how well you managed risk during the investment period. What you see below are lump sum returns for unmanaged risk.  Treat this post as a not-so-gentle reminder to recognise risks and manage them.
And Please do not say, "SIPs will be better". No, they will not – Dollar Cost Averaging aka SIP analysis of S & P 500 and BSE Sensex
 Why am I repeating myself when I have already shown the essential findings before? Because this study with about 1.5L return calculations is by far the most comprehensive I have done so far. And it never hurts to (a) be thorough and (b) provide a warning to a new group of readers.
That said,  most people who read this probably will not understand, or worse not want to understand just how risky unmanaged equity investments can be. People see what they want to see and worse take their few years experience of equity investing a bit too seriously. Anyways this analysis is a scratch that I had to itch.
A question I asked in Asan Ideas of Wealth yesterday: A man buys one unit of Sensex (let us assume index investing was possible then) just days before the Harshad Mehta scam broke on 30th March 1992 with the index at 4091.43 (arrows below). Over the next 25 years, he kept his unshakable faith in Equity and held on to his investment, no matter what. Finally, on 24th March 2017 with the index at 29421.40 (619% increase), he checks the annualized return he has got. What would be the result of this calculation? This is before dividends. A 1.5% to 2% can be added to the return due to dividends.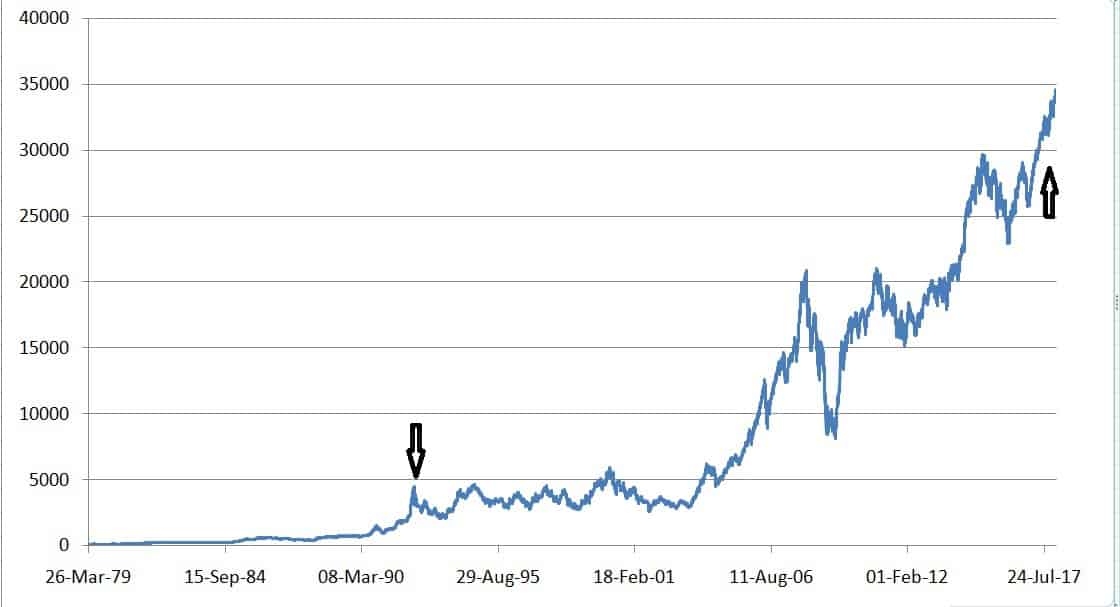 The answer is ~ 8% + 2% from dividends. Ony 10% returns from equity during a period when PPF rates was above 10% for half the time tells you that buying and holding will not always work. A 619% increase in the index does not take into account time! My only point is that
1) Do not enter equity markets without a risk management strategy (something more serious than asking a forum for views)
2) Do not enter equity markets if you do not know how to get out!
3) Do not assume equity will always deliver over the long term!!
What is a rolling return?
Suppose you have Sensex data from April 1979* to 12th Jan 2018.
* Official trading began only in the mid-80s. So the first few years is back-calculated and all risks may not be captured.
Now you can calculate a one-year return between
03 April 1979 to 02 April 1980
04 April 1979 to  03 April 1980
06 April 1979 to  05 April 1980
07 April 1979 to  07 April 1980
09 April 1979 to  08 April 1980
11 April 1979 to  10 April 1980
12 April 1979 to  11 April 1980
14 April 1979 to  15 April 1980
……
…..
06 January 2017 to  08 January 2018
09 January 2017 to  09 January 2018
10 January 2017 to 10 January 2018
11 January 2017 to  11 January 2018
12 January 2017 to  12 January 2018
That is a total of 8649 1-Y lump sum return data points. Similarly, we get 8404 2-year data points and so on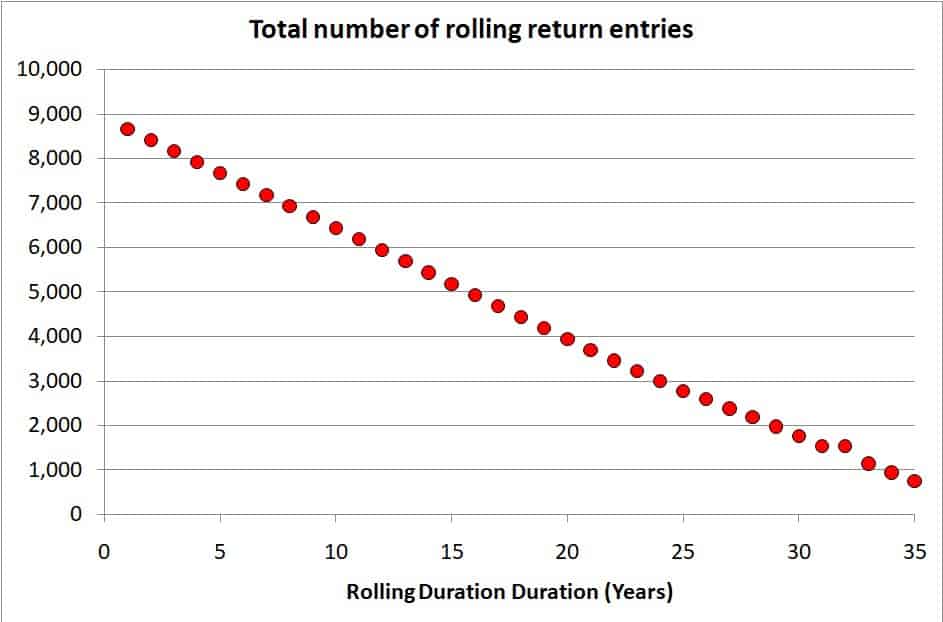 A rolling return simply means we consider every possible 1Y ,2Y .. duration over any given period (1979 to 2018).
Beware of the average Sense returns: it means nothing
 The average return for each rolling return duration is shown below. Taking the average of a rolling return data has some limitations. But we shall ignore it for another reason. Look at the average returns for different durations below and notice that it hardly changes.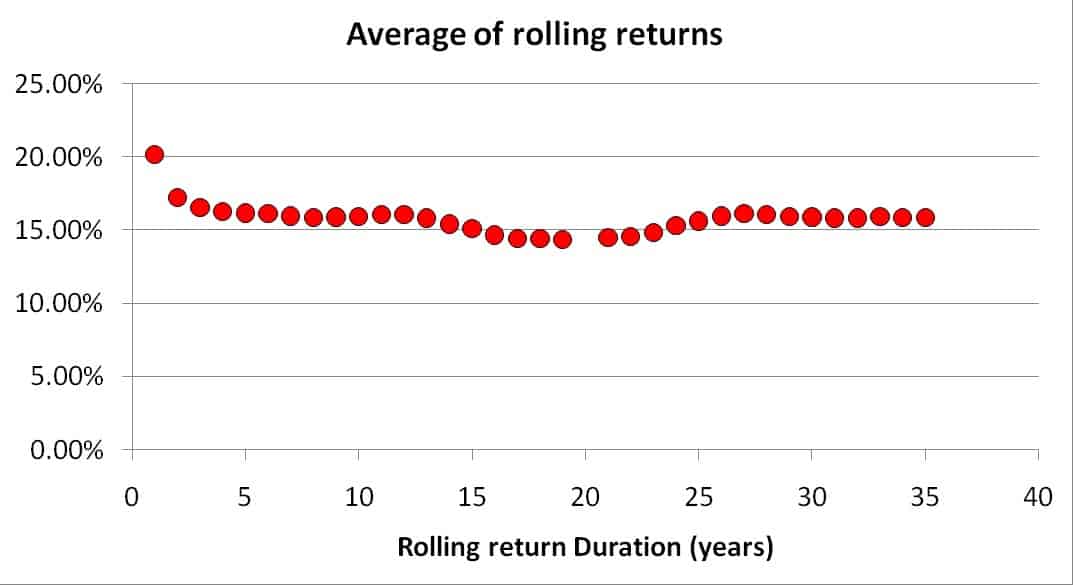 The average return is always about 15% (before dividends) from the Sensex. What is missing is the spread or risk. We would usually use the standard deviation, but the idea of average and standard deviation should only be used for bell curves (this is not!).
Sensex Returns: Max vs minimum returns
Instead, let us look at the maximum and minimum returns for each rolling return period.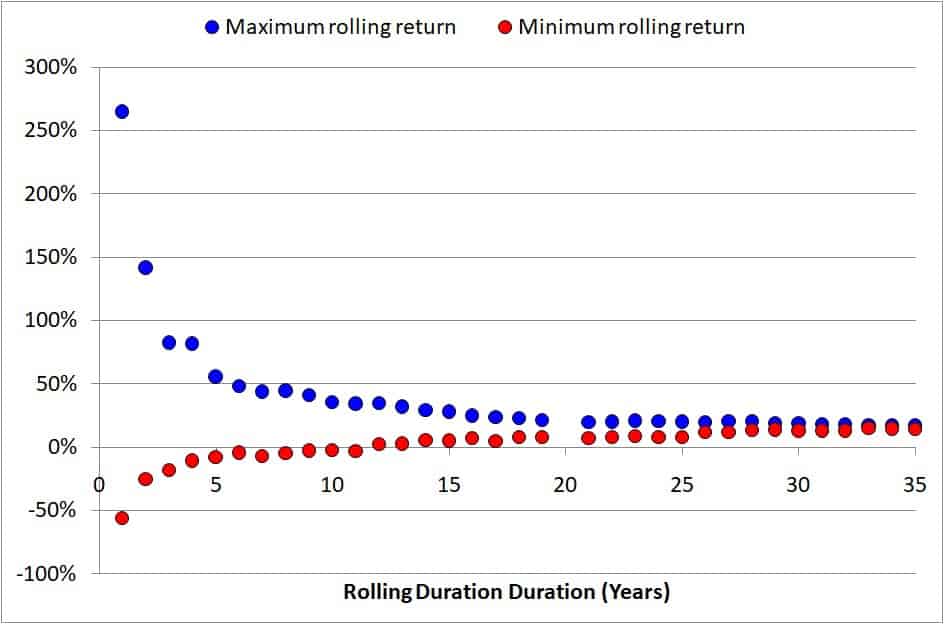 Not only does the gap between max and minimum returns decreases as the duration increases, the max return also decreases. New investors should not get excited about 35%, 45% XIRRs. It will soon vanish.
Let us look at the minimum return again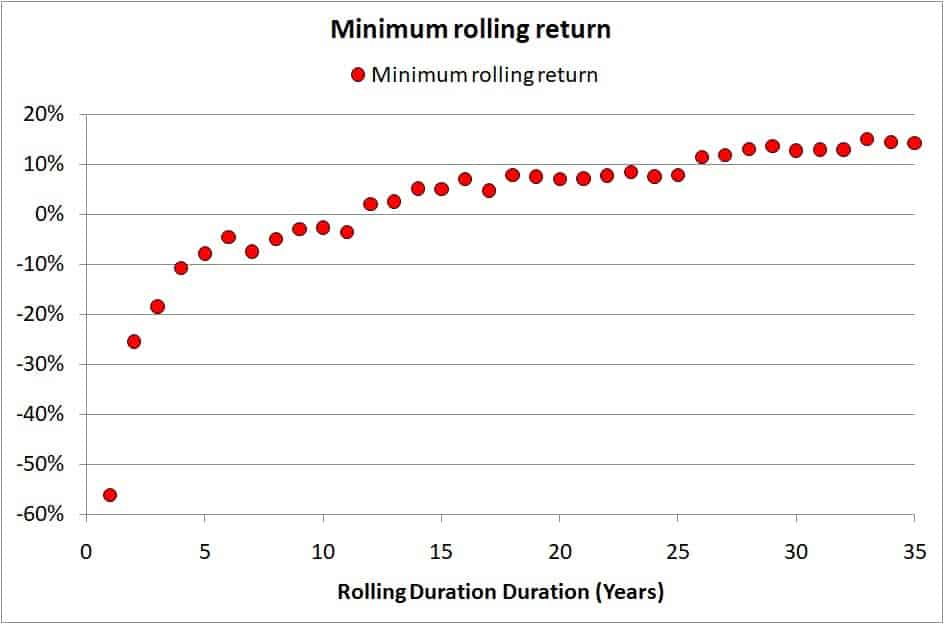 Notice that the minimum moves "up" in steps. This is probably due to the impact of the rolling return window moving past big market crashes.
Negative returns persist up to 11 years.
Single digit returns persist up to 20 years (even if we add about 2% due to dividends). Getting less than 10% returns after 20 years of investing is a reward disproportionate to risk. That is why it is important to recognise that holding on for the long term does not mean lower risk and/or better returns. An investment in equity should be actively managed: Simple Steps to De-risk Your Investment Portfolio
Do not assume that the probability of low returns is low. That is for an analyst to write about. As an investor, we must consider possibilities and not probabilities and protect ourselves.
Many incorrectly assume that I am against risk-taking. I am only against risk-taking where holding is the only strategy. Chances are that you will see some comments that do not get this point. I have not said anything new in terms of conclusions here, but I have said so with a much more rigorous analysis. Those who do not value rigour will fail to appreciate it and I am fine with it.
Sensex Rolling Returns Summary:
Do not take the average or standard deviation seriously. They are not valid. If you still wish to, read them as average +/- standard deviation. That is the standard deviation is the spread in returns for each distribution (see slideshow)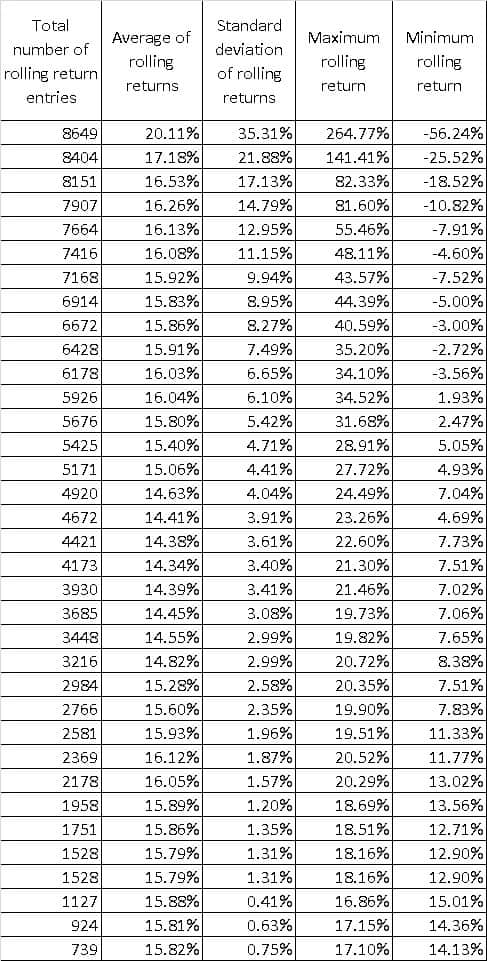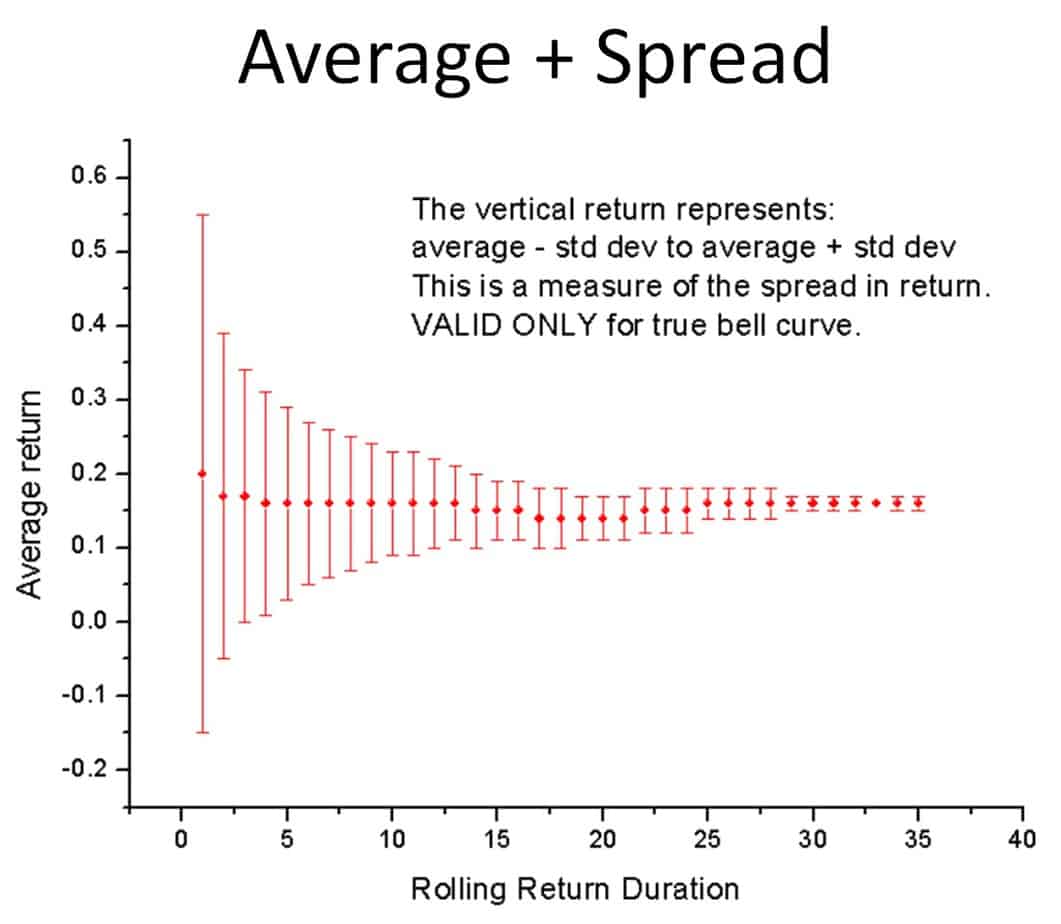 Warning: DO no assume risks decrease using this chart
Sensex Rolling Returns Charts: Slide Show
All the charts used to compile the above data can be found below. Please do stare at a few of them to get a visual understanding of risk.
What if I actively manage risk? Will lower risk result in better returns?
Verdict: sometimes!
Equity: Buying "High" vs Buying "Low"
Nifty 200 DMA: Buying High vs Buying Low
Buying "low" vs Buying "systematically": Surprise, Surprise!
Buying "low" with "active" cash vs buying systematically: still a surprise!
It is unfortunate that many people assume lowering risk implies enhancing returns. Commonsense they say! Excuse me, but do not confuse imagination for common sense!
Beware: SIP will not reduce risks!
Please do not assume SIP is better. If the markets crash, your SIP will crash too.